On 22nd December 2012, Jan Swabhiman Welfare Society arranged an array of social work and public  outreach programs in co-ordination with the Jagaran Seva Sangh in Howrah, West Bengal. The occasion was a massive Jagran which was organized by the Jagaran Seva Sangh. JSWS used this massive public gathering as a proper place to deliver service to the people. The people mostly belonged to the socially lower strata of the society.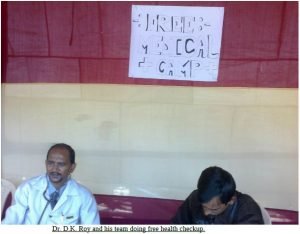 1) In the morning, a medical Camp was organized led by Dr. D. K. Roy and his team with a range of essential health checkup services including Eye-tests, Blood Sugar and pressure test, Hepatitis test etc. All these tests were done free of cost.
2) In the evening a Blanket Distribution event was organized keeping in mind the condition of the poor people in these areas in chilling winter. The people received good quality blankets.
Speaking to the crowd after receiving Honor from the Jagaran Seva Sangh , Sourabh Ji explained them the goal and future steps of JSWS and assured them that we will always be beside them in their sorrows and joys and constantly strive for their wellbeing in every prospects of their lives. Shri. Sanjib Das from JSWS was the lead coordinator whose hard work and dedication made the event successful. His ground-level expertise had once again resulted in successful and orderly execution of the programs.
Shri Soumya Deep Chatterjee also visited the event where he met the people and urged them to join us and be a part of the movement. He presented the idea of setting up of a free "Computer Literacy Program" (for the poor students who can't afford the same) which was accepted wholeheartedly by the
people.
(As reported by Soumyadeep)